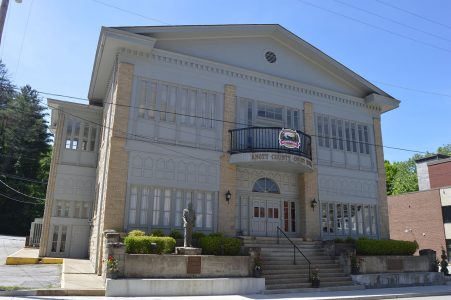 We strive to provide online services to the customers of the Knott County Clerk's Office. The Clerk's office provides services in motor vehicle registration and titling, recordings, marriage license, notary bonds, elections and the sale of the delinquent tax bill. Our goal is to provide you with excellent service whether you are visiting our office, on the phone or online!
Reci Cornett, Knott County Clerk
November 3, 2020 - General Election
The 2020 General Election will be held on Tuesday, November 3, 2020.  Due to concerns over the COVID-19 pandemic we will be opening 8 Election Day Supercenters around Knott County.  If you have questions about the voting process please call 606-785-5651.
In order to limit contact and comply with social distancing recommendations voting will take place using the following methods:
Register to vote or change your voter registration prior to the 2020 General Election.  The deadline to register or change your registration is October 5, 2020 at 4:00pm.
See if you qualify to vote using a Mail-In Absentee Ballot.  The deadline to apply for a Mail-in Ballot is October 9, 2020 at 11:59pm.  The ballots will be mailed the first of October.
In-Person Absentee Ballots
If you would prefer to vote in person, a voting machine will be available in the County Clerk's Office in the Courthouse from October 13, 2020 to November 2, 2020.  The voting machine will be available Monday through Friday from 8:00am to 4:00pm and on Saturday from 8:00am to 12:00pm.
In-Person Voting on Election Day
There will be 8 Election Day Supercenters around the County on Election Day for in-person voting. Anyone that wishes to vote in person on Election Day can use any of the 8 Election Day Supercenters regardless of which precinct you normally vote in. Precautions will be taken to clean and sanitize the machine after each voter has finished. Social Distancing recommendations will be enforced.
Election Day Supercenters will be open on Tuesday, November 3, 2020 from 6:00am to 6:00pm
Knott County Central Gymnasium
76 Patriot Lane - Hindman, KY 41822
Emmalena Elementary School
8343 KY 550 - Emmalena, KY 41740
Carr Creek Elementary School
8596 S Hwy 160 - Litt Carr, KY 41834
Knott County Sportsplex
450 Kenny Champion Loop - Leburn, KY 41831
Jones Fork Elementary School
9795 E Hwy 550 - Mousie, KY 41839
Beaver Creek Elementary School
8000 S Hwy 7 - Topmost, KY 41862
Cordia Elementary & High School
6050 Lotts Creek Rd - Hazard, KY 41701
Lower Quicksand/Decoy Thacker-Grigsby Building
1098 Elmrock Decoy Road - Decoy, KY 41339
Our office is open to the public at this time.  Please wear a mask and maintain social distancing recommendations while visiting our office.
We're still working to serve you!
Vehicle Renewal and Registration:
Renew Online Now Boats and tax only payments are not available online!
Call to renew over the phone during business hours 606-785-5651 option 2

Insurance Fax number: 606-785-0966

Insurance Email: [email protected]
Use our drop off box in front of the Courthouse entrance – Look for the black mailbox – Please include your phone number so we can contact you. Envelopes provided – please DO NOT LICK – use the tape provided and remain 6 feet apart from any other customers!
Call 606-785-5651 option 2 to set up an appointment
Insurance Fax number: 606-785-0966
Insurance Email: [email protected]
We are not permitted to open the door at anytime to assist you.
Documents for recording can be mailed or dropped off by using the drop box in front of the Courthouse entrance.
For any other services, please contact our office for assistance at 606-785-5651.
Thank you for your patience during this time!
~ Reci Cornett, Knott County Clerk